Badu Networks WarpVM TCP Optimization Solution for AWS
Badu Networks' WarpVM is an extension to our market leading WarpEngine TCP optimization proxy that was designed for public cloud computing environments. It is a scalable solution that improves data throughput in the presence of congested or jittery networks to provide a better quality of experience. WarpVM is ideally suited for content delivery networks (CDNs), Enterprise hybrid cloud application optimization, eCommerce sites requiring fast web page loads, organizations requiring large file transfers over long network distances, and video on demand (VOD) or video streaming services optimization.

AWS Marketplace and the AWS Marketplace logo are trademarks of Amazon.com, Inc. or its affiliates.
Benchmarks
The WarpVM™ benchmarks were measured across a variety of network conditions to quantify the AWS performance enhancement of WarpTCP™ technology for various use-cases.
Traffic passing through WarpVM™ appliance showed up to 300% faster download times compared to standard TCP, depending on file size and network conditions.
For a complete benchmark report, please contact your Badu sales representative.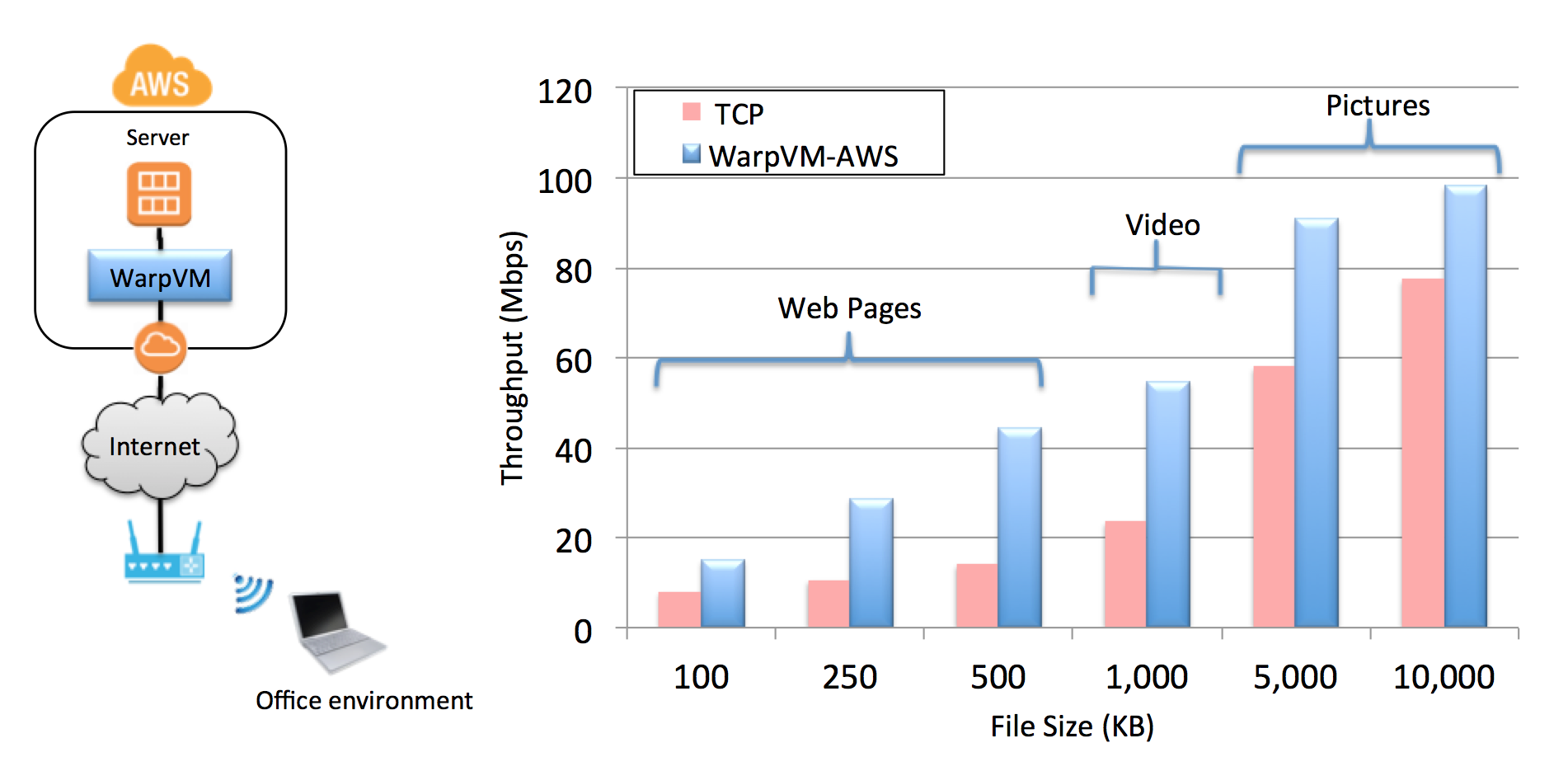 WarpTCP™ — Smarter Congestion Control
TCP was invented 35+ years ago with guaranteed delivery of data in mind, it was never designed for use in massive cloud infrastructures or today's overly crowded wireless networks. Given the jittery nature of today's highly-shared wireless networks, TCP often overreacts to congestion and other network variations which results in a drastic drop in data throughput. This overreacting causes a reduction in utilized available bandwidth, which results in a generally poor user experience.
WarpTCP™ is a set of intelligent algorithms that maximize TCP throughput in the face of network variations such as delay, jitter, packet loss and random bandwidth fluctuation. It was especially designed to maintain high TCP throughput in wireless networks such as LTE and Wi-Fi. Compared to competing TCP acceleration solutions, WarpTCP™ does not overreact to temporary or false-alarm congestion, minimizes re-transmissions, and recovers faster from a congestion event.
Features
WarpVM™ offers the following features:
TCP Optimization Proxy Appliance
Up to 1Gbps throughput
Improves downloads by 20% – 300%
Plug and play installation using WarpAdmin™ management tool
Scalable product family to serve SoHo, SMB, or Large Enterprises
AWS Services Required
Highlights
Quality of Experience: Improves performance of applications for Amazon Web Services (AWS) cloud environment, especially in the presence of congested and jittery networks.
Single Ended Solution: Does not require a second endpoint and any TCP traffic that flows through a single instance of WarpVM will be optimized.
Real-Time Monitoring: WarpAdmin tool monitors TCP traffic via web-based interface. Allows you to verify sessions and throughput as traffic flows through the appliance.
Technical Specifications
| Feature | WarpVM™ |
| --- | --- |
| Model | c4.2xlarge |
| vCPU | 8 |
| Memory | 15 GB |
| Storage | EBS-Optimized (200GB) |
| Dedicated EBS Bandwidth | 1,000 Mbps |
| Processor Type | High frequency Intel Xeon E5-2666 v3 (Haswell) processors optimized specifically for EC2 |