WarpVM Cloud Network Optimization Proxy
WarpVM™ leverages Badu Networks' patented breakthrough technology to eliminate the impact of virtualization jitter, the leading cause of poor cloud network performance. Virtualization jitter results from VM crosstalk and hypervisor transfer delays, as well as the tendency of today's cloud-hosted applications to send data in unpredictable bursts. Benchmarks show that WarpVM delivers an average 300% improvement in network performance between cloud and on premises environments.
WarpVM is a single-ended solution deployed as a VM instance in AWS, Google Cloud, Microsoft Azure, or potentially any other public or private cloud, or hybrid cloud environment. It's ideal for content delivery networks (CDNs), eCommerce sites requiring faster web page load times, and enterprise hybrid cloud and multi-cloud deployments that need fast, large file transfers for data migration and other applications.
Benchmarks
The WarpVM™ benchmarks were measured across a variety of network conditions to quantify the performance improvement for a variety of typical use cases.
In this AWS test, traffic passing through WarpVM™ appliance showed up to 300% faster download times compared to standard TCP, depending on file size and network conditions.
For a complete benchmark report, please contact your Badu sales representative.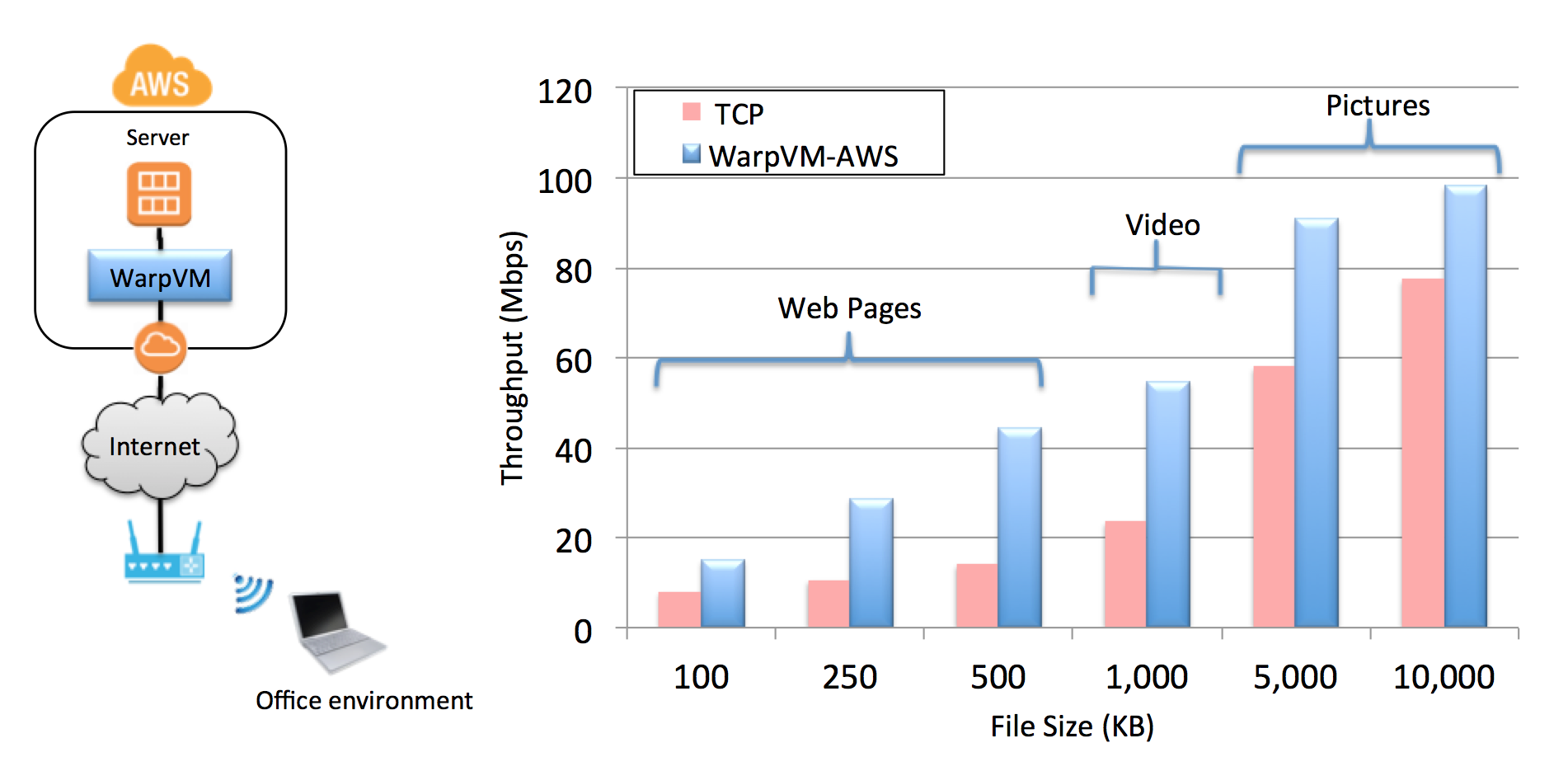 Highlights
Quality of Experience: Improves performance of applications for your cloud environment, especially in the presence of congested and jittery networks.
Single Ended Solution: Does not require a second endpoint and any TCP traffic that flows through a single instance of WarpVM will be optimized.
Real-Time Monitoring: WarpAdmin tool monitors TCP traffic via web-based interface. Allows you to verify sessions and throughput as traffic flows through the appliance.
Technical Features
| | |
| --- | --- |
| Max Throughput | 2Gbps |
| Max Sessions | 300,000 |
| Form Factor | Virtual Machine |
| Storage | 200GB |
Get Started Today
Make your virtualized network faster by launching an instance of WarpVM™ into your infrastructure.