Solutions
Delivering better network performance to a jittery network near you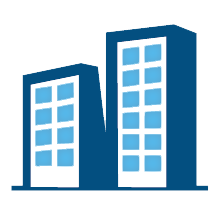 Enterprise
Are you looking for a solution to improve data throughput rates to virtual servers at off-site locations?
Is the shift from desktop computers to wireless laptops, tablets and smartphones straining your wireless network?
Are you utilizing all of your network's available bandwidth?

Are you a business offering Wi-Fi service to customers and interested in providing them with a better wireless internet experience?
Problem
Networks are growing in both size and complexity as more functions converge onto data networks.
The number of wireless devices such as laptops, smartphones and tablets that must be supported by an enterprise network are growing.
Virtual servers and/or their data are increasingly being mirrored to offsite locations, increasing bandwidth needs.
Without upgrades or a new approach, wireless performance will get worse which negatively impacts productivity.
Solution
WarpTCP™ is a simple and cost effective solution that optimizes existing network performance and efficiency.
WarpTCP™ technology improves bandwidth utilization.
WarpTCP™ reduces jitter and increases number of simultaneous devices on enterprise wireless networks.
WarpTCP™ improves end user experience with faster uploads/downloads increasing productivity.
Enterprise Use Case Summary
Enterprise network infrastructure is an essential component of any business operation that must be able to keep up with wireless technology trends. Badu Networks solutions offer improved efficiency on enterprise networks, resulting in higher productivity and better end user experience.
Badu Networks Products
WarpTCP™ technology is a single-ended solution that can be deployed as a software module, virtual appliance or physical appliance. Learn more about the Badu Networks products suitable for Enterprise deployments.
WarpEngine™ Appliance
WarpGateway™ Appliance
Sign up for a free demo of WarpEngine™ today