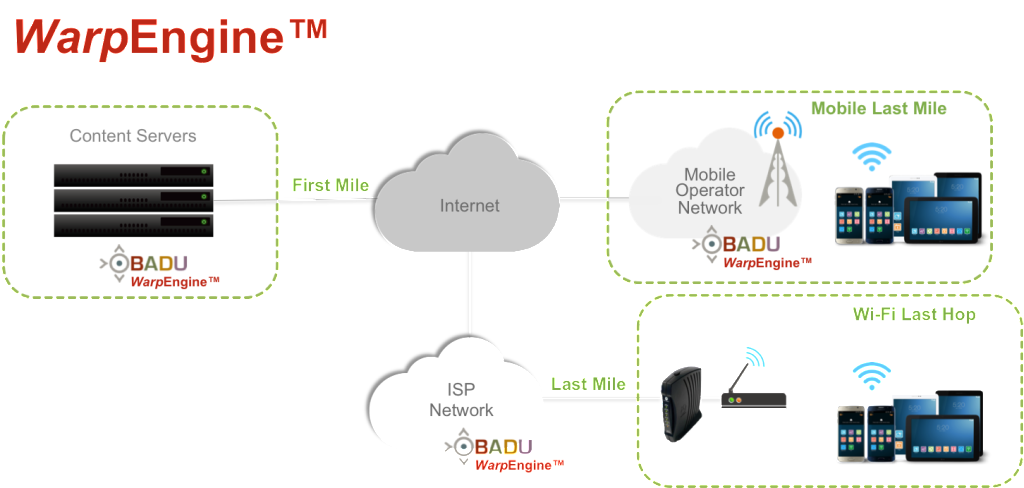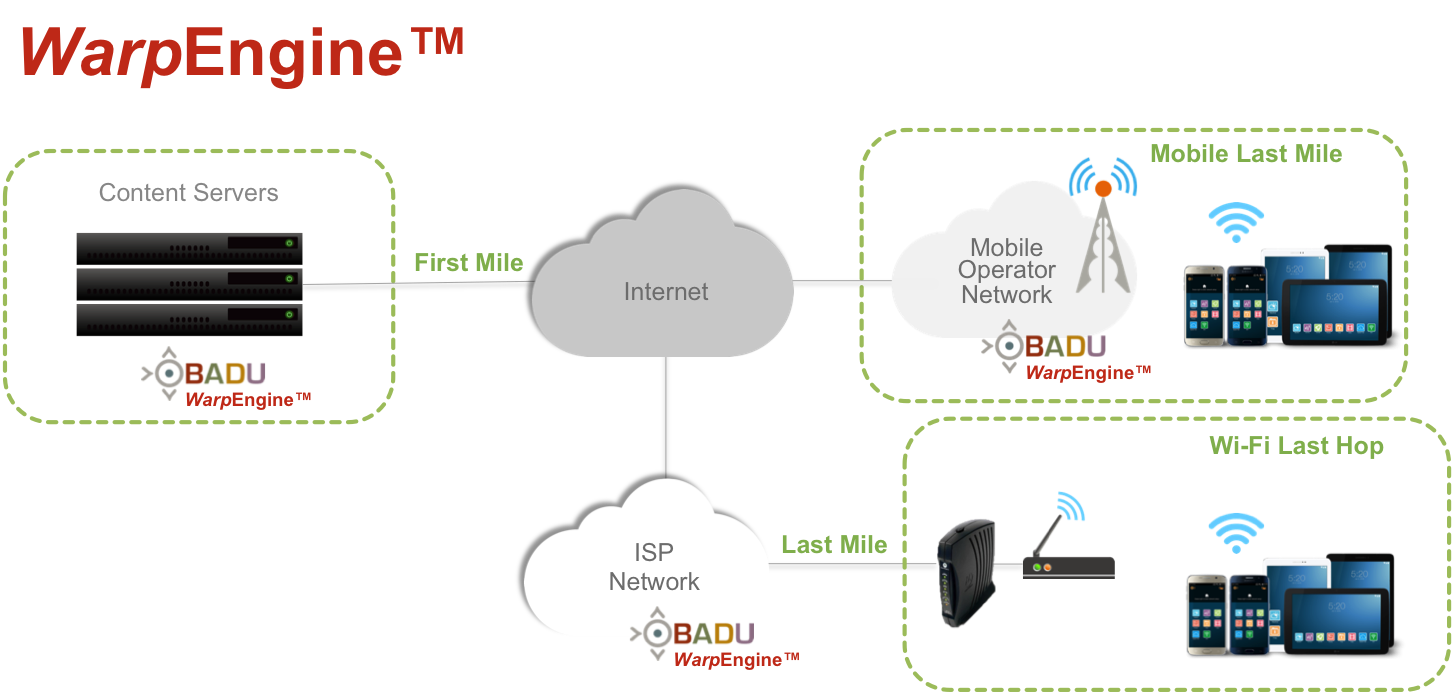 WarpEngine™ maximizes bandwidth utilization, improves throughput and boosts wireless network performance.
IRVINE, Calif. December 12, 2016 – Badu Networks, a provider of TCP Acceleration solutions, today announced that it is working with Daou Technology, a South Korea based software, solutions, and IT VAR, to deploy its WarpEngine™ TCP acceleration proxy to Korean enterprises. As Internet usage grows, so does congestion on the network. WarpEngine™ is a scalable network acceleration appliance based on WarpTCP™ technology designed to optimize bandwidth and throughput. It can be deployed at the customer premise for enterprise applications, in a service provider's core network, or in front of thousands of cloud servers in a data center. Unlike other WAN Optimization solutions that require two appliances to be deployed at both ends of the link, WarpEngine is a single-ended solution and can be easily deployed at any point on the network.
Based on 2015 data*, South Korea has the world's fastest average Internet connection speeds, hitting an impressive 26.7Mbps. Fueling its leading position in connection speeds, the South Korean government has established policies and programs to facilitate the rapid expansion and use of broadband in the country. In a country with more than 92-percent of its population (roughly 45 million people, and growing) connected to the internet, available bandwidth utilization and throughput issues continue to be the top internet performance challenges.
"WarpEngine™ from Badu Networks is an easy to deploy solution that addresses many of our customers' varying network challenges," said Kim Youn-Duck, CEO of Daou Technology Inc. "In testing Badu Networks' TCP acceleration technology, we found that it offers faster upload and download speeds for enterprise clients. We especially like the fact that WarpEngine™ is a single-ended deployment, not required at both ends of the link, like many other WAN optimization products."
WarpEngine™ is ideal for deployment in the following use cases:
Enterprise hybrid cloud architecture application acceleration
Retail/e-commerce sites requiring fast web page loads
Organizations requiring large file transfers over long network distances
VOD (video on demand) and Video Streaming service acceleration
Mobile Operators core network to improve throughput for Mobile Last Mile
Internet Service Provider core network to improve throughput for Last Mile
Content Delivery Networks (CDNs)
"WarpEngine™ is an ideal solution for helping the current global Internet infrastructure to support growing Internet usage, booming demand for streaming UHD videos and high-res music, as well as the data demand associated with IoT devices always transmitting data to and from cloud services," said Dennis Vadura, CEO of Badu Networks. "Compared to the standard TCP protocol, our intelligent WarpTCP acceleration algorithms are better at determining actual network congestion, minimizing re-transmissions, and recovering from true network congestion faster."
At the heart of WarpEngine™ technology is WarpTCP™, a set of intelligent algorithms that optimize TCP throughput in the face of network variations such as delay, jitter, packet loss, and random bandwidth fluctuation. The TCP protocol often overreacts to these network variations, especially on wireless networks that are jittery by nature, resulting in much available bandwidth going to waste. WarpTCP™ utilizes a patent-pending proprietary rate and timing control algorithm that was designed to maintain high TCP throughput of wireless networks such as LTE and Wi-Fi.
WarpEngine™ is available today from Badu Networks, or through Daou Technology in Korea. For those interested in testing WarpEngine™, please email us at info@badunetworks.com. For more information about Badu Networks or their technologies, please visit www.badunetworks.com.
###
About Badu Networks, Inc.
Badu Networks improves the mobile and wireless user experience by providing innovative software and appliance solutions that speed up your network connection, reduce webpage load times, accelerate enterprise applications, and accelerate your traffic across the Internet. For more information, visit www.badunetworks.com.
Media Contact:
Michael Farino
New Era Communications, LLC
Phone: (949) 346-1984
michael@newerapr.com
* Data about South Korean internet speeds sourced from 2015 State of the Internet report published by Akamai. https://www.akamai.com/us/en/multimedia/documents/report/q3-2015-soti-connectivity-final.pdf